LearnIR (v2), advanced infrared learner module
33,00 €
Advanced Infrared learning module with integrated USB and clear enclosure in a compact USB thumb drive form factor. Select from one of the bundles below with or without the optional enclosure or USB Cable adapter.
Description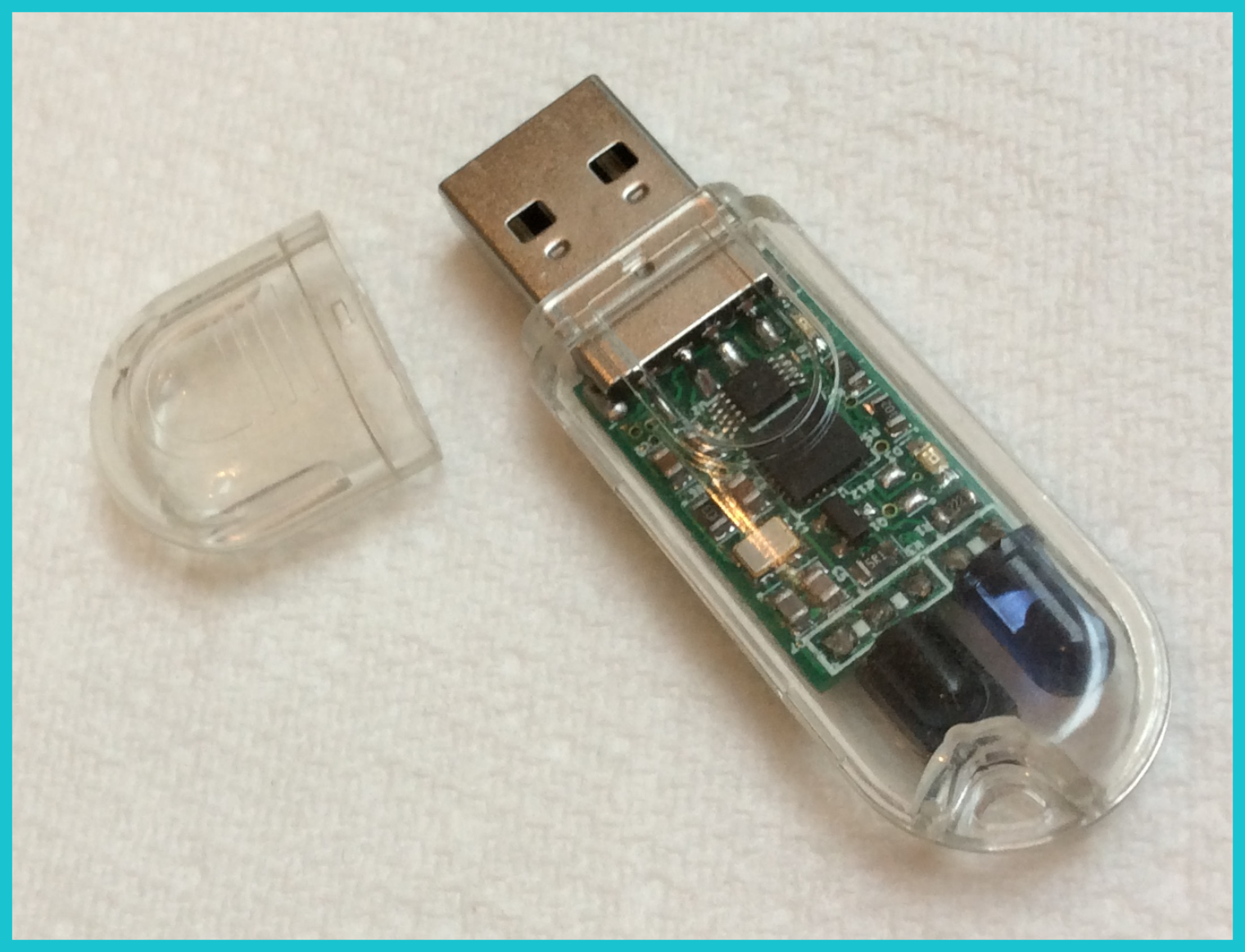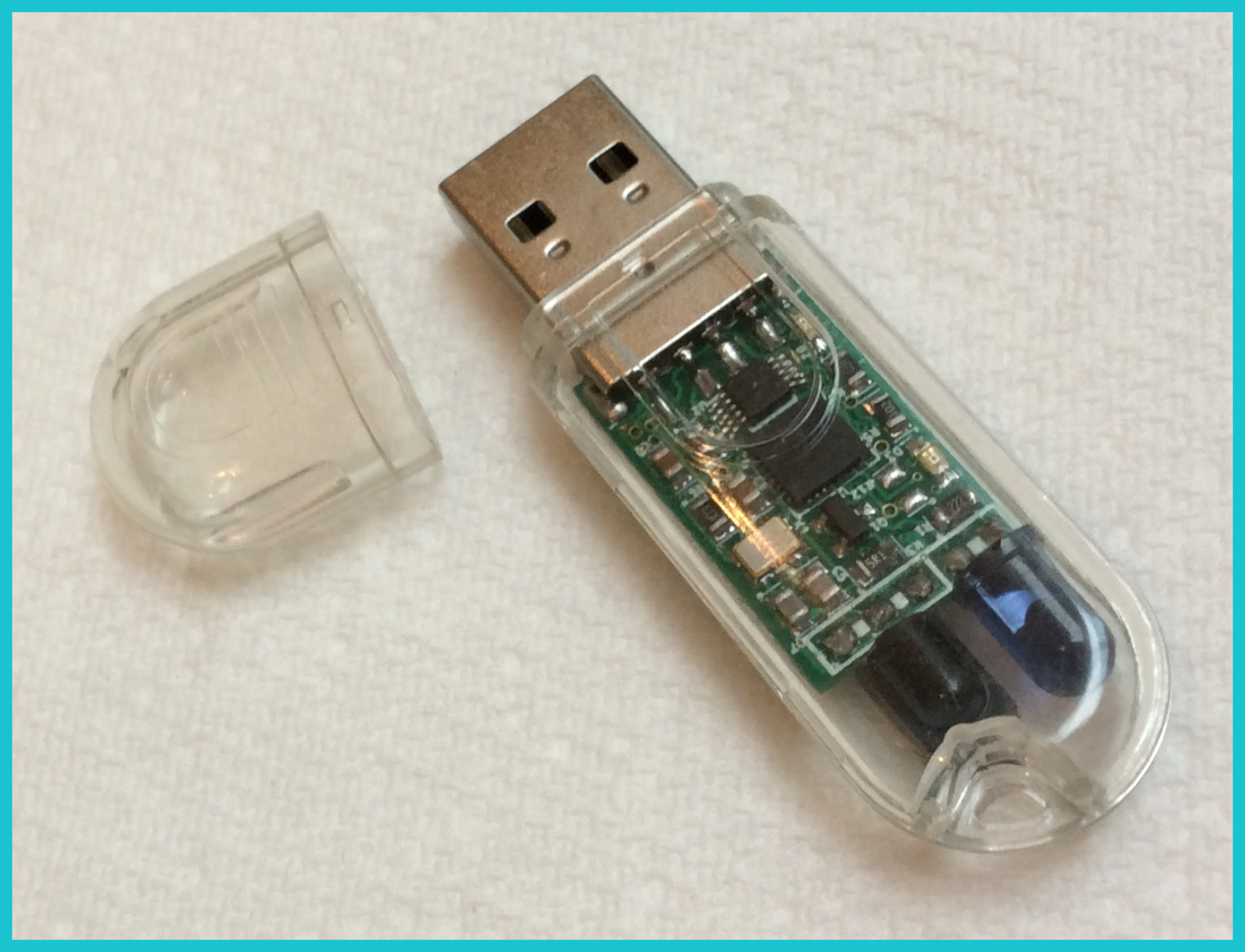 LearnIR v2–  is the leading tool available for accurately  'learning' infrared remote control signals. The most hi-tech & feature rich solution available – LearnIR allows makers, hobbyists and professionals to record individual or sets of IR signals and store them in libraries for later use. In addition, captured signals can be replayed immediately to confirm the validity of the learned signal. It is what we believe to be the most feature rich IR learner available today. LearnIRv2 features improved firmware that also includes our new & unique FUZZY Clean technology with capture accuracy of just a few uSecs. The 'Auto-Clean' feature means you can achieve perfect timings, automatically, for a list of supported protocols, which can be easily extended for all of your signals & protocols. Every captured signal is immediately displayed in graphical format for real-time trouble-shooting, thus ensuring perfect signals are captured every time.
Now shipping with Black solder mask, as seen below:

View Product Datasheet (Click here for PDF)
What is LearnIR ?
LearnIR is an innovative module for learning IR remote control signals. It features several innovations in IR remote control:
LearnIR features an unrivaled lossless compression engine and encoding system for IR signals
Our new & unique FUZZY Clean technology is included on all LearnIR devices (from V2), delivering unrivaled signal captures every time.  FUZZY Clean technology was developed in our own LABs and is unique to LearnIR. (developed in-house by AnalysIR engineers). Fuzzy clean analyses IR signals in real time and can automatically improve timings to deliver accurate captures to within a few uSecs.
LearnIR's application feature for automatic cleaning of noisy signals, resulting in perfectly learned signals.
LearnIR can learn even the longest signals found in Air Conditioners and the most difficult signals that fail with other learners.
High quality Vishay IR emitter and IR receiver.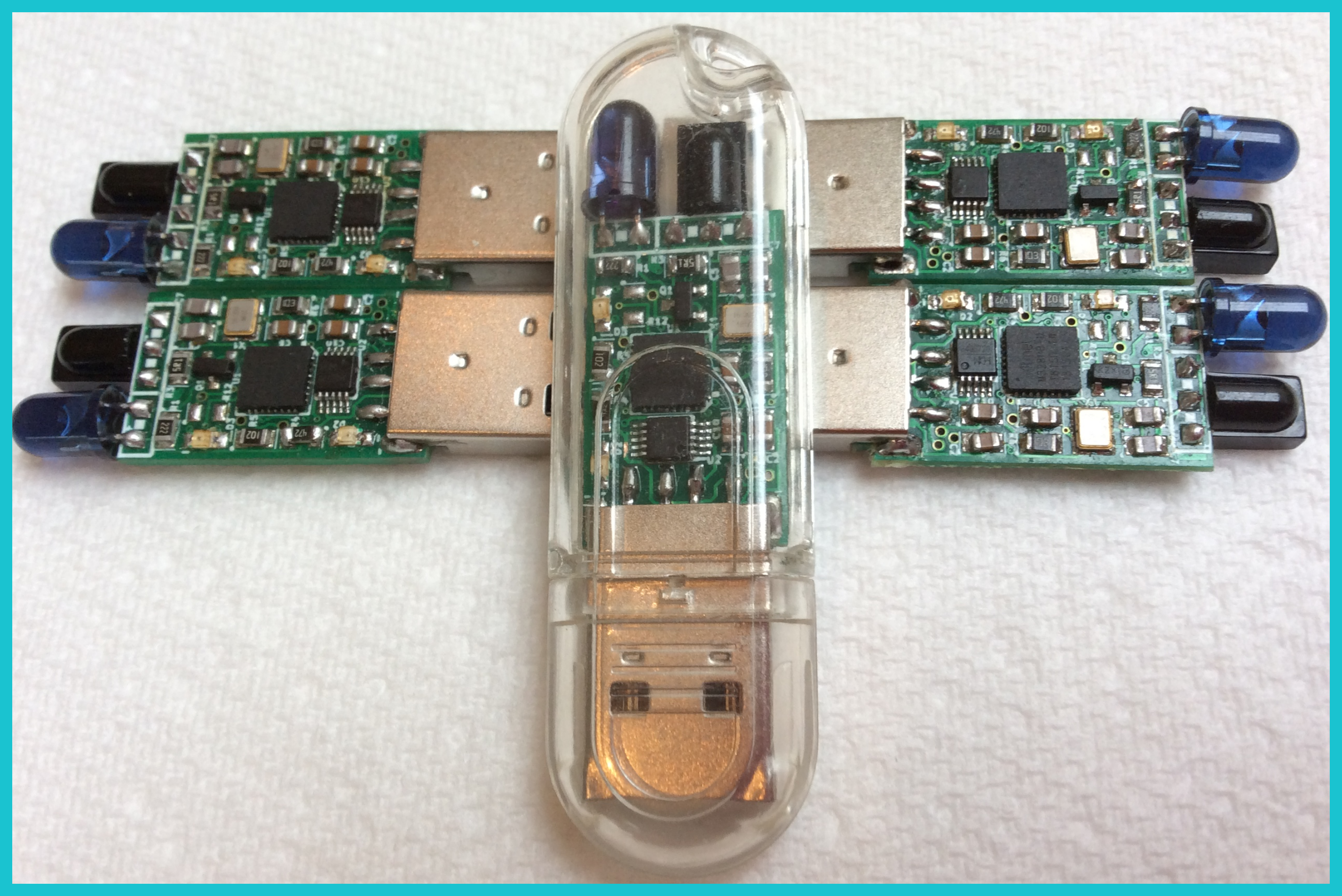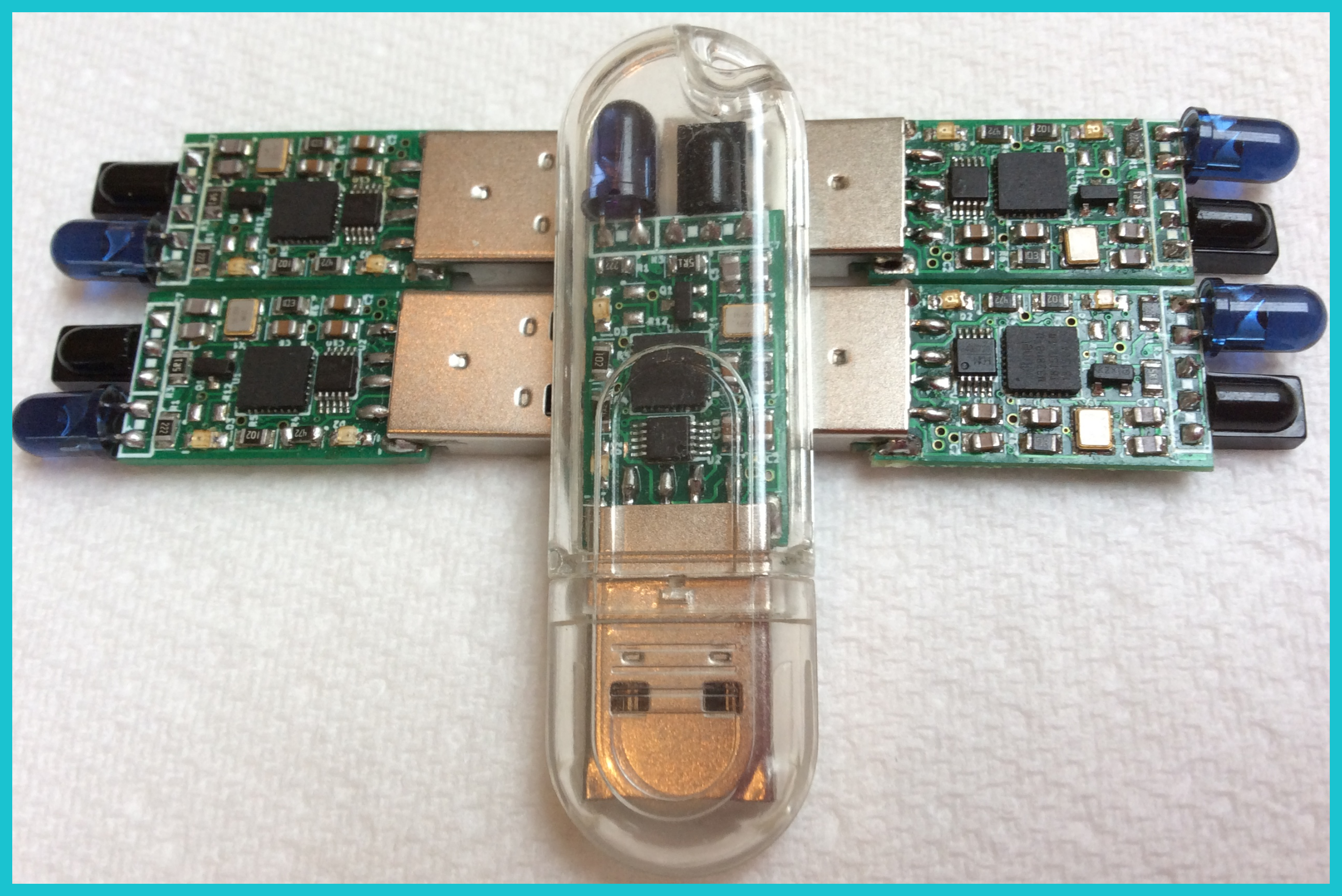 LearnIR packs a lot more features which are covered in more details in the data sheet, user guide and the introductory product video which can be found below.
LearnIR is made up of the following main components:
The LearnIR Windows PC application.
The LearnIR USB module in a USB thumb-drive form factor.
Integrated Serial USB for communicating with the PC
A clear & compact enclosure (optional), which can be attached to a key-ring, lanyard or similar..
LearnIR is an excellent companion device for AnalysIR and other 3rd party Infrared solutions.
Options
To get your own LearnIR(s), please select one or more of the following option at the top of this page:
A1 – A complete LearnIR V2 system including a clear enclosure.
B1 – A complete LearnIR V2 system with no enclosure. (PCB is exposed)
U1 – A USB cable adapter/connector. This enables you to extend the LearnIR with a micro USB cable (not included). Without this, LearnIR is connected directly into your PC or USB hub and operates perfectly fine. With this adapter you can extend the reach with a micro USB cable. (See Photos available in gallery). As an alternative to this option, you can always use a standard USB extension cable instead.
A2 – Two pieces of A1.
A5 – Five pieces of A1.
U2 – Two pieces of U1.
U5  – Five Pieces of U1.
LearnIR devices come bundled with our dedicated LearnIR windows application. (Note: This application is not the same as our flagship AnalysIR application which is available directly from our website and which also supports LearnIR devices)
Promotion
Check out our special promotions for bundles of 2 & 5 LearnIR modules. (See above)
With our unique  FUZZY CLean technology as standard
What's Included
A copy of LearnIR software, via download. No registration is required as the application will only work with official LearnIR devices (T&Cs must be accepted). Communication with the PC is via the integrated Serial USB Interface. There is no need for additional USB adapters, IR receiver or emitter as they are already included on-board. As well as integration with its own Windows application, LearnIR can be driven by 3rd party applications and systems. Details of the serial interface syntax/protocol are available on request.
In addition to greatly improved firmware in V2, we also include our new & unique FUZZY Clean technology along with an upgraded micro-controller.
See Product Sheet for more details!
LearnIR _ AnalysIR bundles
We can offer discounted bundles for bulk orders. Contact us for details.
LearnIR Video Tutorial
LearnIR _ AnalysIR bundles
We can offer discounted bundles for bulk orders. Contact us for details.
FAQ
Question: I don't have a PayPal account?
Answer: You can pay with Credit Card via PayPal without joining or get a friend or family member to make the contribution for you using their PayPal account.
Question: PayPal is not available in my Country?
Answer: LearnIR is alsos available via our Tindie Store, which provides additional payment methods.
Question: What happens after I make my payment?
Answer: You will receive an email with download instructions for the LearnIR installation package. The module will be shipped out within 1-2 working days.
Question: How long does delivery take?
Answer: Worldwide delivery usually takes from 5-10 working days after shipping, depending on location. Standard post is used which does not include tracking or insurance.
Question: What is included?
Answer: A copy of the LearnIR windows app, documentation and an optional serialUSB adapter (if selected).
Question: I have made my payment but I have received no instructions yet?
Answer: Usually we respond pretty quickly unless we are asleep. So if you haven't heard back from us within 24 hours, just contact us using the 'contact' option at the top of this page. Dont forget to check your spam/junk folder and whitelist analysir.com.
Question: I have placed my order. How long before they arrive?
Answer: We use standard postage, so expect delivery within a 5-10 working day timeframe epending on location.
Question: I am still confused?
Answer: Not a problem, just send your questions to us using the contact option at the top of this page.
Additional information
| | |
| --- | --- |
| Weight | 0,05 kg |
| Dimensions | 5,8 × 1,8 × 0,9 cm |
Only logged in customers who have purchased this product may leave a review.