DIY IR Soldering Kit for Infrared Remote Control
14,00 € – 465,00 €
Soldering kit for Advanced Infrared remote control featuring High quality IR products from Vishay.
Description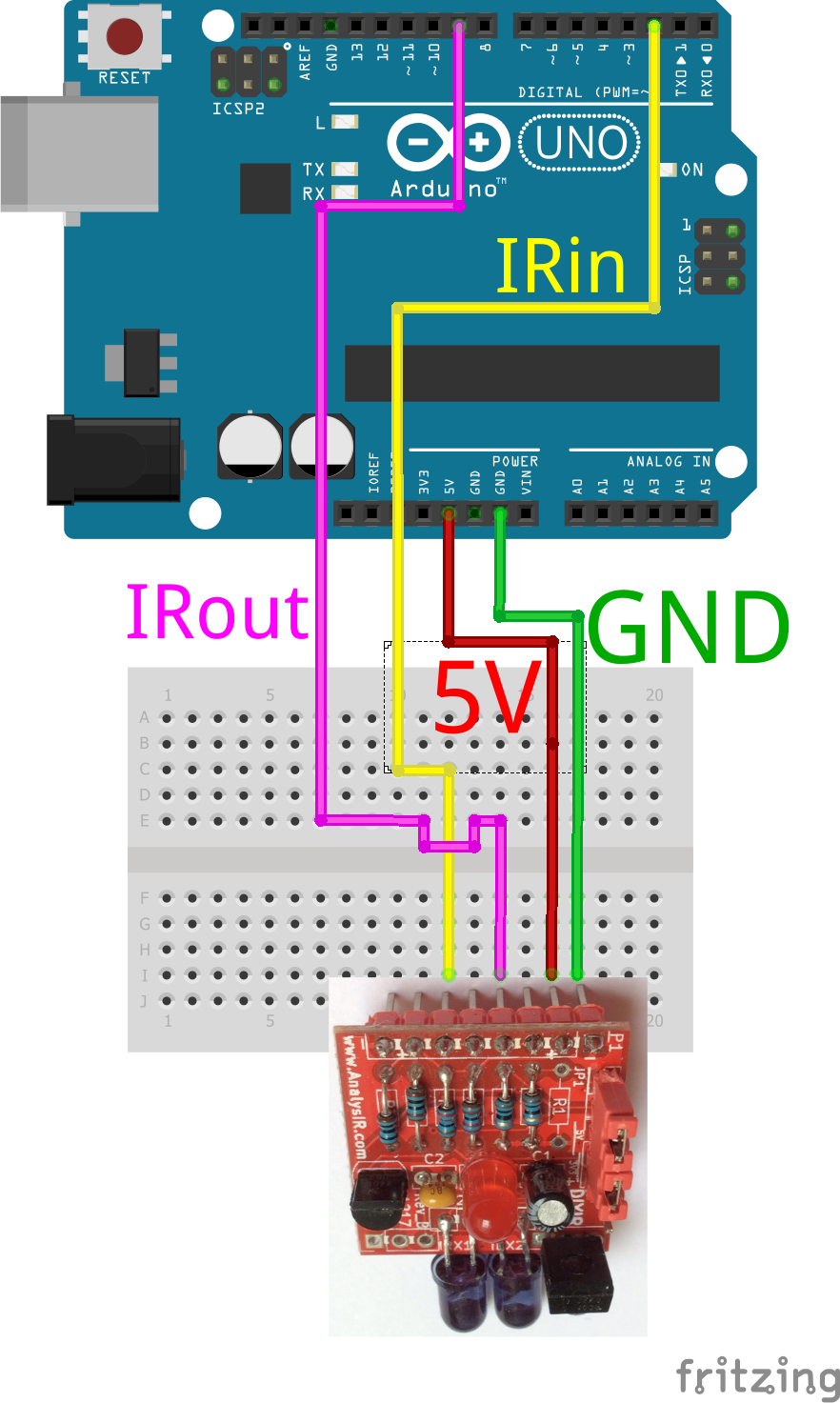 DIY IR Soldering Kit for Infrared Remote Control,  DIYIR, is our new soldering kit to create an advanced IR remote control module for use with Arduino, RPi or any other MCU/Microcontroller system (not included). It uses the same advanced components and circuitry as our other MakeIR modules and works directly with IRremote, IRLib and our own AnalysIR or with your own custom firmware or sketches. It is targeted at beginners, soldering courses and experienced users alike. Soldering skills and/or supervision is required to build the kit. More details along with the tools required are covered in the instructional WiKi pages. We want to encourage makers to undertake IR remote control projects and to provide an affordable way to acquire the very best IR technology for your projects or use with AnalysIR. Popular projects include control of TVs, STBs, Air Conditioner units etc.

View Product Datasheet (Click here for PDF)
What is DIYIR ?
DIYIR is a high end implementation for Infrared remote control, featuring Tx & Rx, dual IR emitters, selectable output power and 5V or 3V3 operation.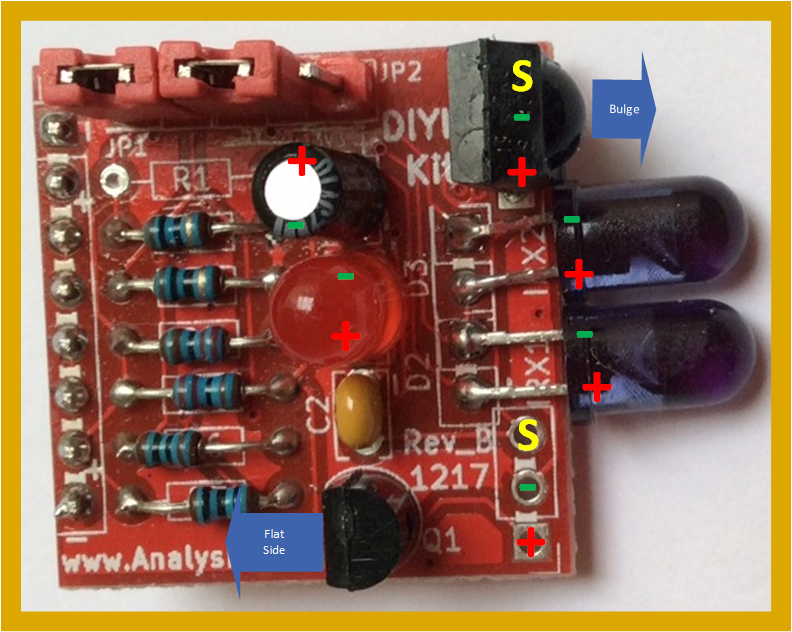 We have used only through hole components to simplify soldering. All of the IR components are of the highest quality & performance from Vishay. In addition, users who complete their project can get a FREE copy of our popular A.IR Shield Nano firmware along with the accompanying Python script.(T&Cs apply – see WiKi for details). DIYIR is designed to work with the popular Arduino libraries, IRremote & IRLib along with our own AnalysIR and the numerous examples provided on our blog.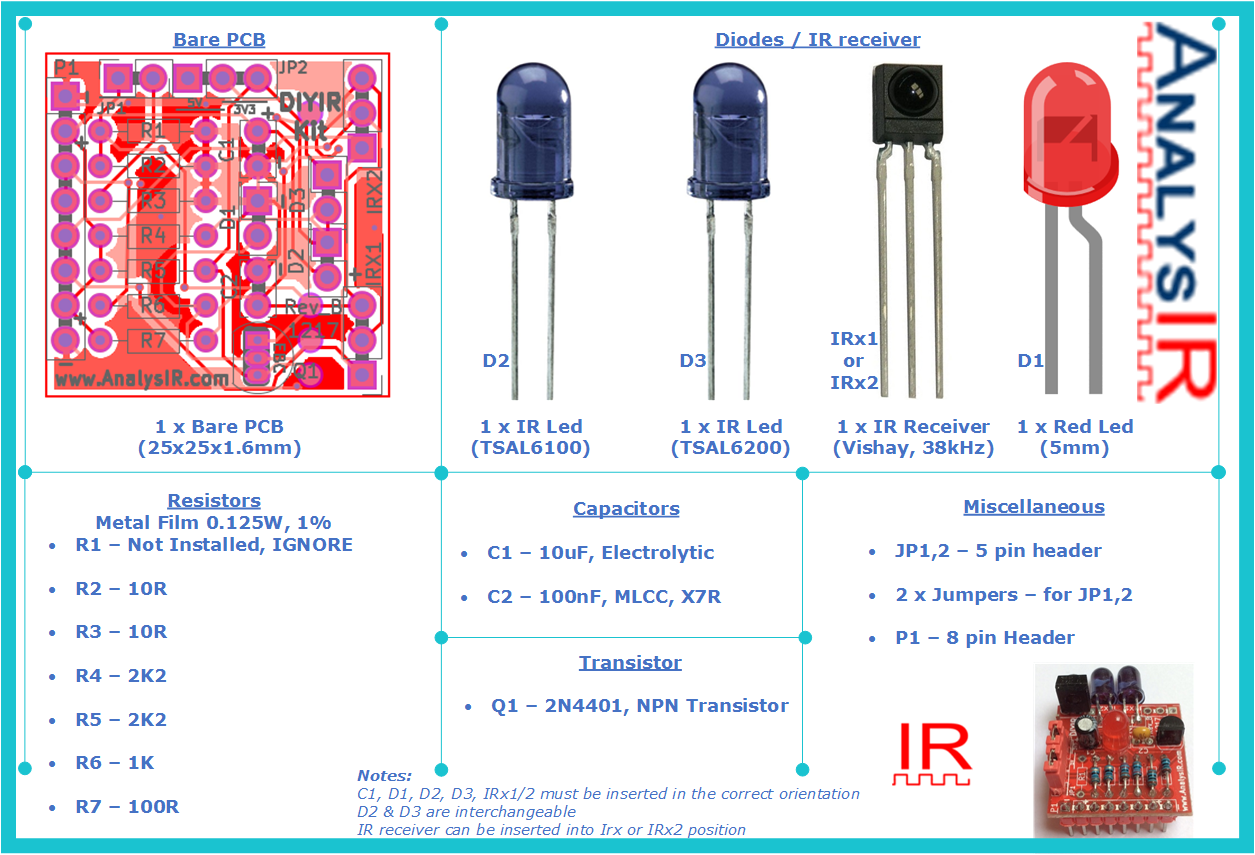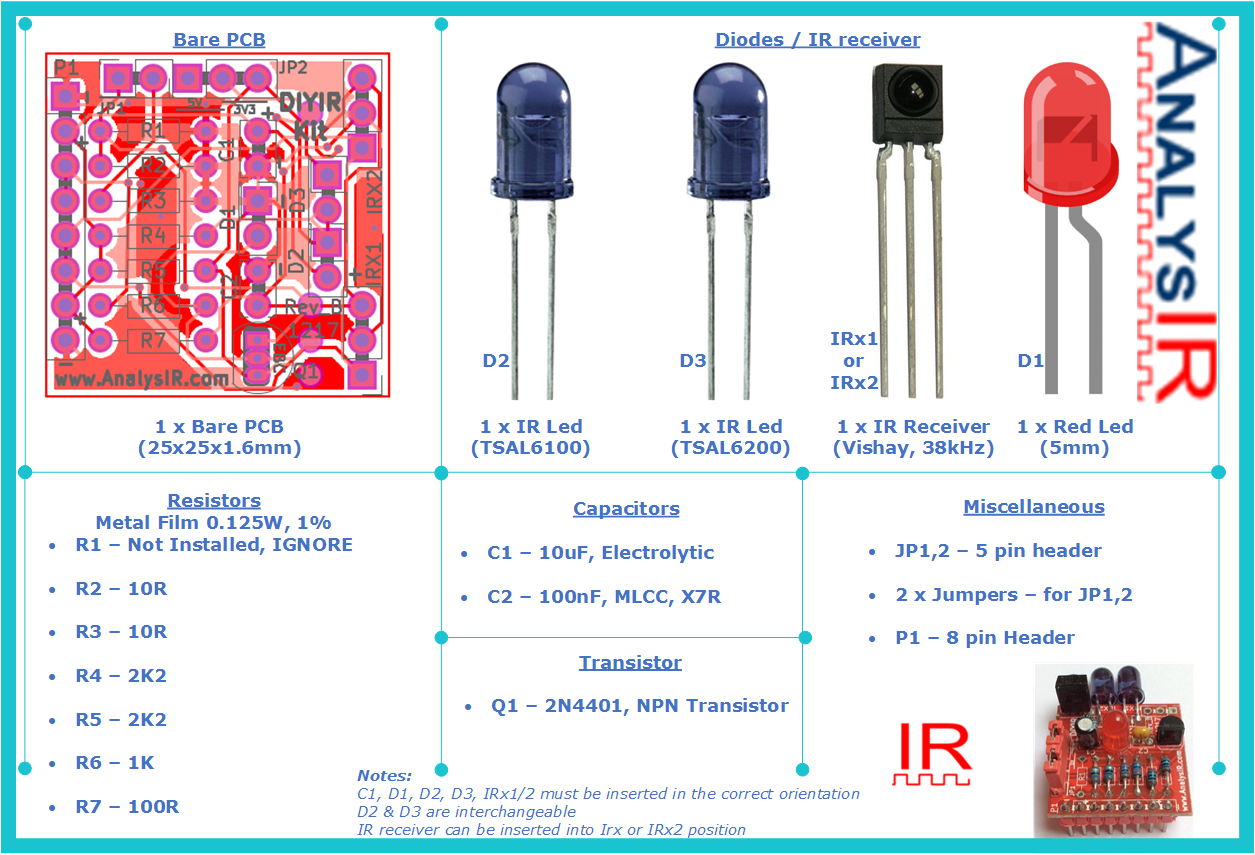 DIYIR Options
Select the quantity you require from the drop down or contact us for other bulk orders. We also have a small quantity of pre-soldered & tested units available from our initial testing.
DIYIR WiKi
We have also created a Wiki to assist with building & testing the kit. Visit the DIYIR Kit WiKi to preview.
DIY IR Soldering Kit for Infrared Remote Control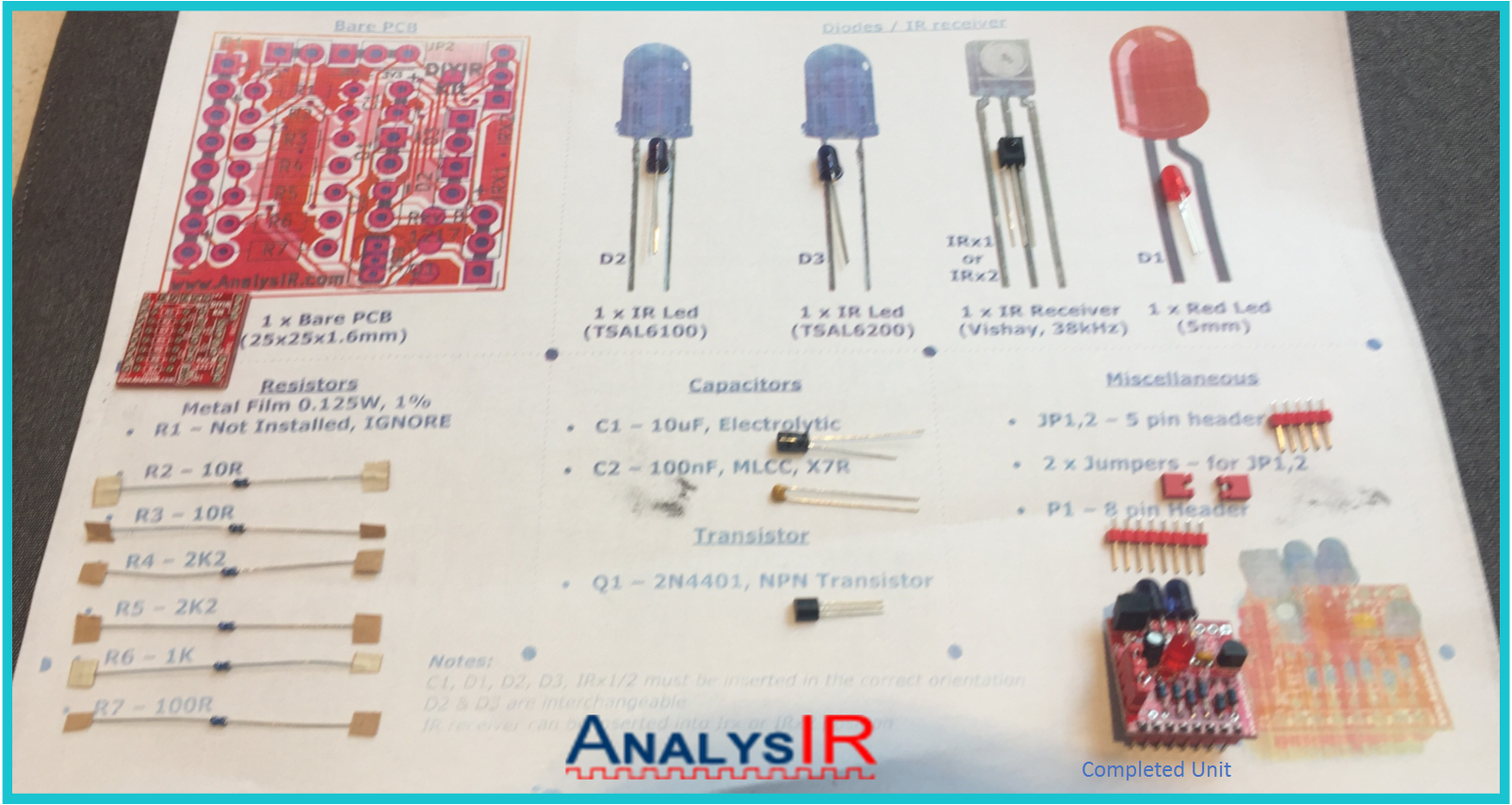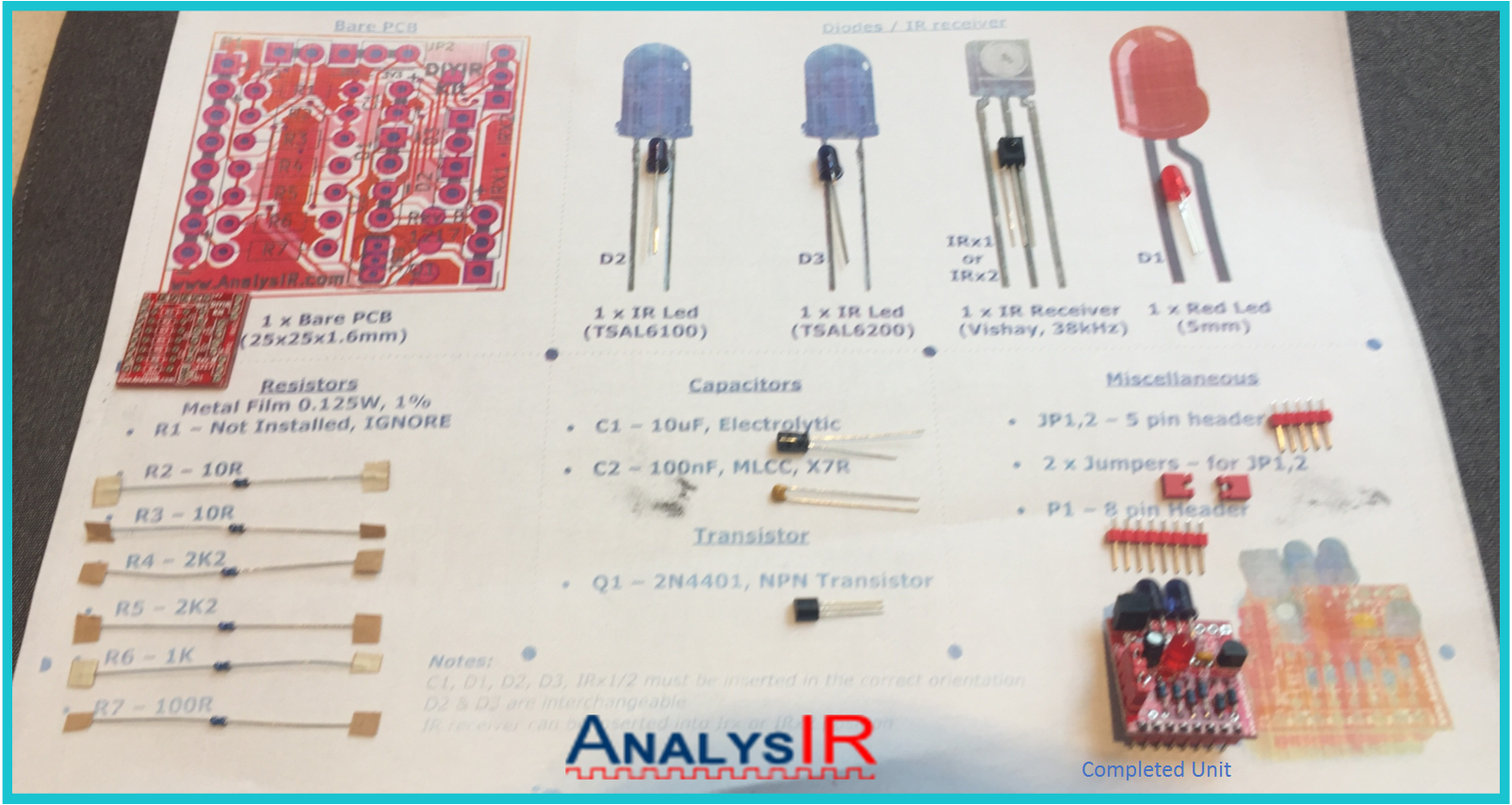 What is (not) Included?
The DIYIR PCB. (included)
All of the components required to populate the module. (included)
A power supply provided via the microcontroller supply or via an independent DC power source. (not included)
You will need to provide tools for soldering and testing along with your own MCU platform. (not included)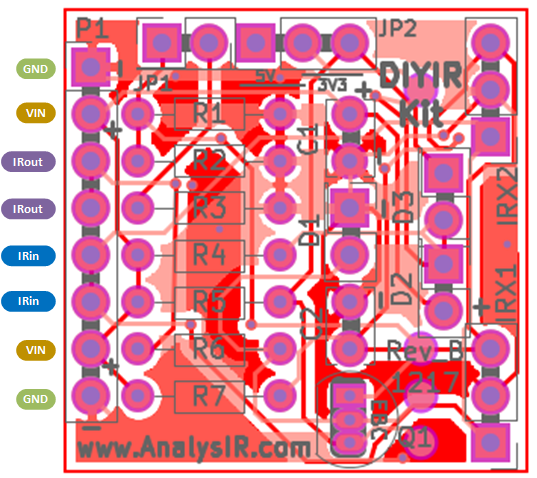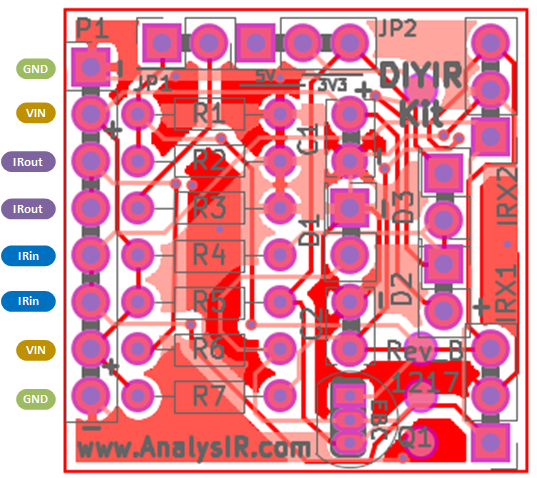 See Product Sheet for more details!
FAQ
Question: I don't have a PayPal account?
Answer: You can pay with Credit Card via PayPal without joining or get a friend or family member to make the contribution for you using their PayPal account. DIYIR is also available for sale on Tindie where there are additional payment options.
Question: What happens after I make my payment?
Answer: You will receive an email with a copy of instructions for DIYIR. The module will be shipped out usually within 1-2 working days.
Question: How long does delivery take?
Answer: Worldwide delivery usually takes from 5-10 working days after shipping, depending on location. Standard post is used which does not include tracking or insurance.
Question: What is included?
Answer: One DIYIR kit or the quantity ordered. If you opted for a presoldered unit the n you will receiver a completed & tested DIYIR module. Cables, power supply and MCU are not included.
Question: I have made my payment but I have received no instructions yet?
Answer: Usually we respond pretty quickly unless we are asleep. So if you haven't heard back from us within 24 hours, just contact us using the 'contact' option at the top of this page. Don't forget to check your spam/junk folder and whitelist analysir.com.
Question: I have placed my order. How long before they arrive?
Answer: We use standard postage, so expect delivery within a 5-10 working day timeframe depending on location.
Question: I am still confused?
Answer: Not a problem, just send your questions to us using the contact option at the top of this page.
Additional information
| | |
| --- | --- |
| Options | 1 x DIYIR Soldering Kit, 1 x DIYIR pre-soldered, 2 x DIYIR Soldering Kit, 5 x DIYIR Soldering Kit, 10 x DIYIR Soldering Kit, 25 x DIYIR Soldering Kit, 50 x DIYIR Soldering Kit |
Only logged in customers who have purchased this product may leave a review.