Sale!
DetectIR – advanced IR receiver modules
10,00 € – 12,00 €
Choose one of the configuration options below. We use only high quality IR components from Vishay. (Contact us in advance if you require non-standard IR receivers configured)
Description
DetectIR –  is an advanced module for receiving and detecting/testing modulated Infrared signals for interfacing to a microcontroller or operating stand-alone as a visual detector/tester. DetectIR allows makers, hobbyists and professionals to incorporate infrared receiver & detection functionality into their projects using quality IR components and excellent design features. DetectIR can operate standalone or integrated into existing projects and provides excellent reception range and signal quality for both 3V3 and 5V systems. It can be powered directly from a microcontroller, USB ports, batteries or via stand-alone power supplies connected to the PCB headers.
View Product Datasheet (Click here for PDF)
Available Options
IR receiver – Select any standard IR carrier frequency and we will configure & test the module using high Quality Vishay receivers.

DetectIR configured as Tester with Battery Pack (not included)

IR Detector/Tester – We will configure the module as an IR detector/tester. In this mode the module provides a visual indicator of modulated IR remote control signals from 20-60kHz, which can be useful during installs or product development for assessing operation and to some degree range/angle of operation.
Custom configuration – for a small additional fee we can configure a wider range of receivers into the module. Contact us first with your requirements & use case. To support this offering  we have included multiple footprints for the most common IR receivers. The module has both through hole and SMD footptints available for each component.
DIY assembly – we can provide a DIY kit with any of the standard receivers. You will then have to solder the components to the PCB (NB: Soldering skills & equipment required) See Bulk orders below.
PCB only – you can order one or more PCBs and provide and populate your own components. (NB: Soldering skills & equipment required)
What is DetectIR ?
DetectIR is made up of 3 components:
The DetectIR board module with integrated high quality IR receiver, which can provide a range of functionality from Visual detection, remote control and serial data transfer (rx only).
A power supply provided via the microcontroller or via an independent DC power source or battery. (Not Included.)
The included high quality IR receiver (Included) can be mounted on-board or located remotely via cabling (Not Included).
DetectIR is an excellent companion device for any 5V or 3V3 project and can operate from 3V3 to 5.5V supplies (Max 6V). When operating as a visual detector/tester it is configured with a visual indicator and can operate from 2 AA batteries for 2-3 months, drawing just under 0.8mA of idle current (1 year+ when used with on/off switch).
DetectIR provides the leading operating range and when configured as a serial data receiver the highest baud rate in its class (details over).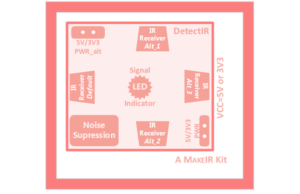 What's Included

Each DetectIR module is configured with a choice of high quality IR receivers or detectors to match the intended function. You can opt to have the receivers and header pins soldered or not. Test points and spare positions are not populated, by default.
Configuration Options include one of the following per module:
IR Receiver: 30,33,36,38,40 or 56kHz and subject to availability 455kHz
IR Detector/Tester: optimised for 30-60kHz modulated IR signals
Serial over IR: 4,800 (continuous), 9600(non-continuous) when fed directly to UART and up to 7,800bps (continuous) using custom encoding/firmware.
A quick-start guide is provided after purchase which covers: pin-outs, headers, , 5v/3V3 operating modes and Test Points for better understanding of the circuit and trouble shooting.    See Product Sheet for more details!
3DPrinted enclosure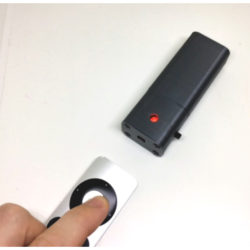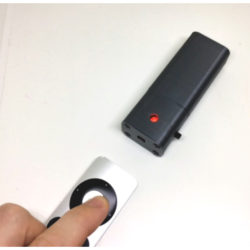 One of our users has released a 3D printed enclosure on Thingiverse to house DetectIR with a battery pack (2xAA) for use as an IR detector/tester. The 3D design can be found here. The enclosure is not included but the design may be downloaded from Thingiverse and printed on your 3D printer or via a 3rd party service.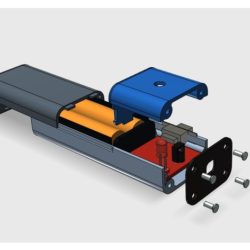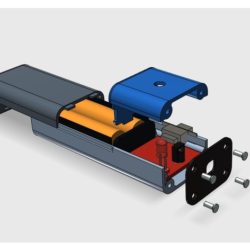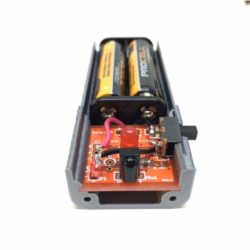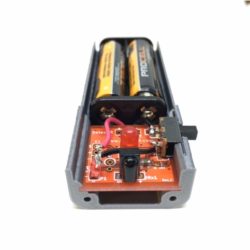 Bulk Orders Contact us in advance if purchasing 10 or more of any option, to receive a special discount. (e.g. 10 x DIY option if you are running soldering classes)
FAQ
Question: I don't have a PayPal account?
Answer: You can pay with Credit Card via PayPal without joining or get a friend or family member to make the contribution for you using their PayPal account.
Question: What happens after I make my payment?
Answer: You will receive an email with a copy of the quick start guide for SendIR. The module will be shipped out usually within 1-2 working days.
Question: How long does delivery take?
Answer: Worldwide delivery usually takes from 5-10 working days after shipping, depending on location. Standard post is used which does not include tracking or insurance.
Question: What is included?
Answer: One SendIR module with headers & components pre-soldered and tested. Cables, power supply and MCU are not included.
Question: I have made my payment but I have received no instructions yet?
Answer: Usually we respond pretty quickly unless we are asleep. So if you haven't heard back from us within 24 hours, just contact us using the 'contact' option at the top of this page. Don't forget to check your spam/junk folder and whitelist analysir.com.
Question: I have placed my order. How long before they arrive?
Answer: We use standard postage, so expect delivery within a 5-10 working day timeframe depending on location.
Question: I am still confused?
Answer: Not a problem, just send your questions to us using the contact option at the top of this page.
DetectIR – advanced IR receiver module
Additional information
| | |
| --- | --- |
| Select Option | 30kHz TSOP IR Receiver, 33kHz TSOP IR Receiver, 36kHz TSOP IR Receiver, 38kHz TSOP IR Receiver, 40kHz TSOP IR Receiver, 56kHz TSOP IR Receiver, 38kHz TSSP IR Receiver, 20-60kHz TSMP IR Learner, 20-60kHz IR Detector/Tester, Custom configuration, DIY Assembly, PCB only |