Sale!
SendIR, advanced infrared emitter module
Advanced Infrared emittermodule with Dual emitters, pre-soldered.
Only 10 left in stock
Description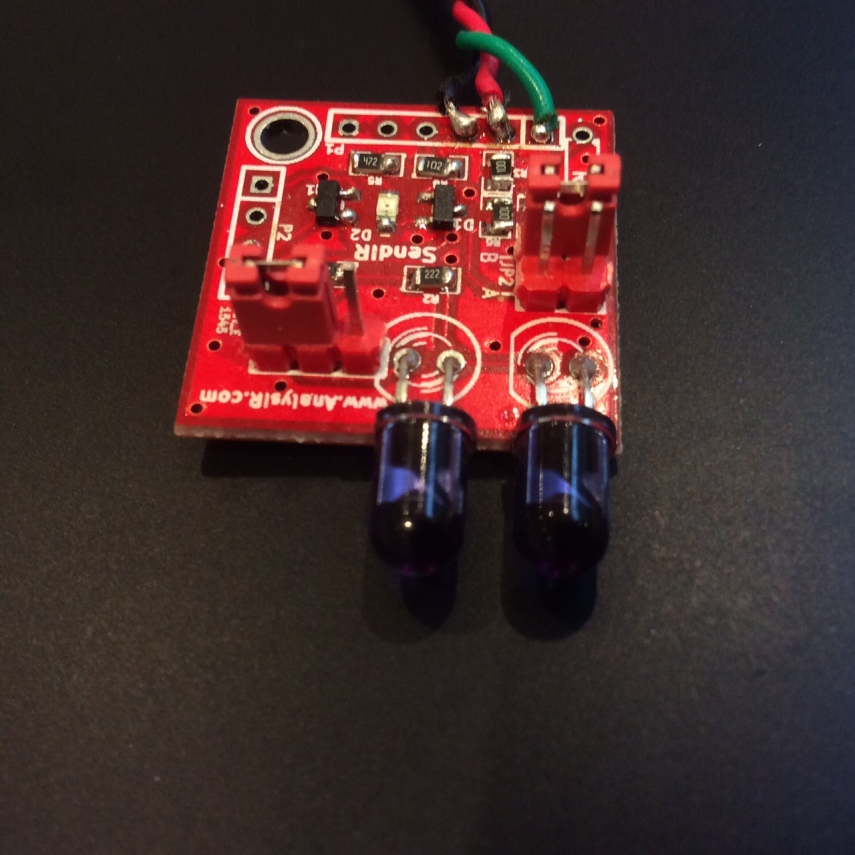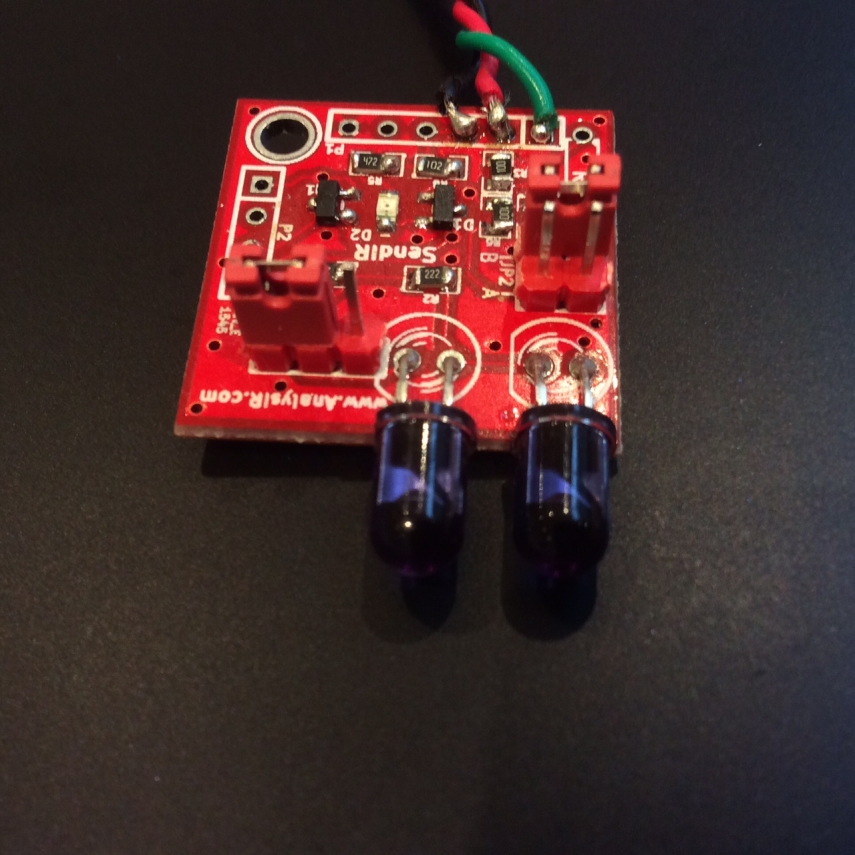 SendIR –  is one of the most advanced IR emitter modules available for sending modulated Infrared signals using a microcontroller.  SendIR allows makers, hobbyists and professionals to send infrared signals from their microcontroller projects using quality IR components and excellent design features. SendIR is a drop in replacement for any IR emitter circuit and provides excellent range and signal quality for both 3V3 and 5V systems. It can be powered directly from the microcontroller supply, batteries or via an independent DC power supply. SendIR outputs high quality IR signals, thus ensuring optimum performance, reliability and range every time.
View Product Datasheet (Click here for PDF)
What is SendIR ?
SendIR is made up of 3 components:
The SendIR board module.
An associated Microcontroller unit such as an Arduino, Teensy, ESP8266/NodeMCU, MSP430, PIC, AVR, Raspberry Pi, FPGA Spark Core, ARM, Edison, PSOC or similar to generate the modulated infrared signal for transmission. (Not Included.)
A power supply provided via the microcontroller supply or via an independent DC power source. (Not Included.)
SendIR is an excellent companion device for any 5V or 3V3 project and can operate from 2V5 to 5V supplies. It can be configured with single or dual emitters for more demanding projects. Single emitter mode is recommended for 3V3 supply or below, unless dual aspect coverage is the primary requirement.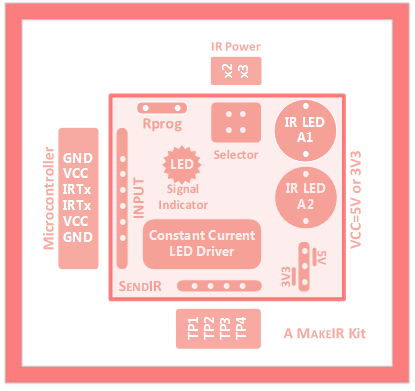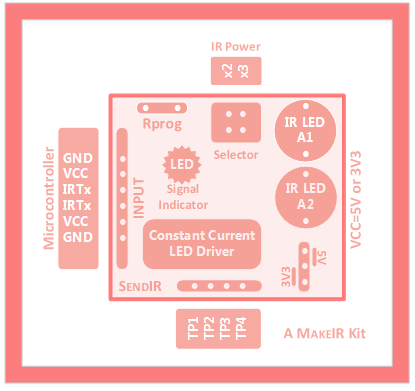 What's Included
Each SendIR module is configured with single or dual emitters plus a set of header pins and power selection jumpers (pre-soldered  by default). You can opt to have the emitters and header pins soldered or not. Test points and spare positions are not populated.
SendIR now ships with 1xTSAL6100 & 1xTSAL6200 installed by default. This provides coverage for both long range and wide aspect simultaneously.
IR range can be increased further by installing a programming resistor on the PCB. This is a feature of all of our constant current IR emitter designs in the MakeIR Kit series.
A quick-start guide is provided after purchase which covers: input headers, power selector jumper settings, 5v/3V3 operating modes, programmable resistor for custom power levels and Test Points for better understanding of the circuit and trouble shooting.
IR range can be increased further by installing a programming resistor on the PCB. This is a feature of all of our constant current IR emitter designs in the MakeIR kit series. See Product Sheet for more details!
FAQ
Question: I don't have a PayPal account?
Answer: You can pay with Credit Card via PayPal without joining or get a friend or family member to make the contribution for you using their PayPal account.
Question: What happens after I make my payment?
Answer: You will receive an email with a copy of the quick start guide for SendIR. The module will be shipped out usually within 1-2 working days.
Question: How long does delivery take?
Answer: Worldwide delivery usually takes from 5-10 working days after shipping, depending on location. Standard post is used which does not include tracking or insurance.
Question: What is included?
Answer: One SendIR module with headers & components pre-soldered and tested. Cables, power supply and MCU are not included.
Question: I have made my payment but I have received no instructions yet?
Answer: Usually we respond pretty quickly unless we are asleep. So if you haven't heard back from us within 24 hours, just contact us using the 'contact' option at the top of this page. Don't forget to check your spam/junk folder and whitelist analysir.com.
Question: I have placed my order. How long before they arrive?
Answer: We use standard postage, so expect delivery within a 5-10 working day timeframe depending on location.
Question: I am still confused?
Answer: Not a problem, just send your questions to us using the contact option at the top of this page.
Only logged in customers who have purchased this product may leave a review.