Following our successful crowd-funding campaign on Indiegogo we have been receiving many requests about how  to Get a copy of AnalysIR from all around the globe.

Tips: On how to get your copy of AnalysIR
AnalysIR Product Datasheet (Click here for PDF)
To make it easier we have now introduced a new Shopping Cart system to purchase AnalysIR, IR Components and related products.
Using the Shop link, you can, for a limited time only,  still get AnalysIR @ :
$20 – Educational & MakerSpaces (Discounted rate, non-commercial use)
$30 – Makers like us (non-commercial use)
($5 off with coupon code '5offanalysir' = $25 during checkout)

$50 – GoPro or above. (All other uses)
($5 off with coupon code '5offanalysir' = $45 during checkout)

 Use Contact form above for bulk purchase pricing.
UPDATE: Use coupon code 5offanalysir during checkout to get $5 off any purchases of AnalysIR software (GoPro & Maker editions only), for a limited time only. Also check out our newly released MakeIR modules & shields via our webshop.
We continue to have a selection of IR component kits available,  for customers who are or have previously purchased a copy of AnalysIR, ranging from $8 to $15, including world-wide shipping. Details of these handy IR component kits can be seen here. Payments for IR component kits include worldwide shipping. These kits have proven to be a very popular & cost-effective way to get these quality components in low quantities. If you are not an owner of AnalysIR, please select standard shipping when ordering IR Components. IR Component Starter Kits can be purchased here.
Once you have decided which AnalysIR Edition(s) you require and if you would also like an IR component kit – just add them all to your shopping cart and complete your checkout using PayPal.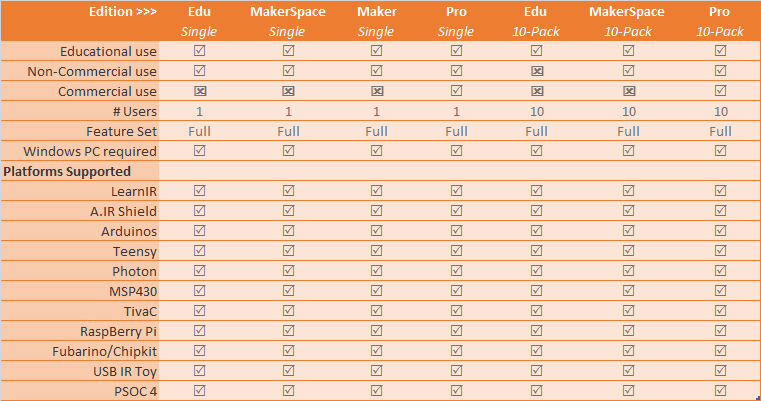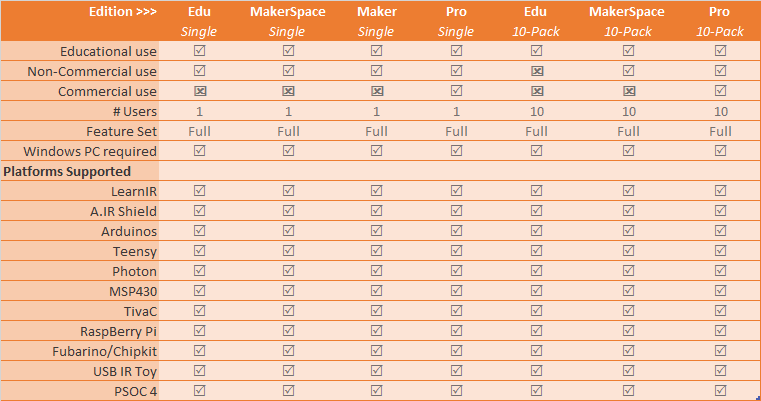 Visit our shop by clicking here.
Thank you for your support & interest in AnalysIR.
The AnalysIR Team
FAQ
Question: I don't have a PayPal account?
Answer: You can pay with Credit Card via PayPal without joining or get a friend or family member to make the purchase for you using their PayPal account.
Question: I don't understand all of the terminology used above and am confused about which option to select?
Answer: For most users just select the Maker Edition, for 'non-commercial use' of AnalysIR.
Question: What happens after I checkout?
Answer: You will receive an email with download instructions for AnalysIR. If you have already downloaded AnalysIR, then just send us the SIGNATURE from the start-up screen, which will speed things up.
Question: How does registration work for AnalysIR?
Answer: Once you complete the checkout & PayPal payment we will issue an installation package to you for download. After you install AnalysIR and a further email exchange you will receive your unique registration KEY. The registration KEY is tied to a single PC and the registration email address. Currently, this process is partly manual and we hope to automate it further during the year.
Question: What is included with AnalysIR?
Answer: A copy of AnalysIR to use on a PC with an Arduino, RPi, Photon, LaunchPad, USB IR Toy or other supported device. NB: The payment is for AnalysIR software only and not a device or any hardware.
Question: I am still confused?
Answer: Not a problem, just send your questions to us using the contact option at the top of this page.
Question: I have checked out but I have received no follow-up yet?
Answer: Usually we respond pretty quickly unless we are asleep. So if you haven't heard back from us within 12-24 hours,

check your spam folder

or otherwise just contact us using the 'contact' option at the top of this page.
Question: I have ordered some IR components. How long before they arrive?
Answer: We use standard postage, so expect delivery within a 5-10 working day timeframe.
Question: How do I qualify for the discounted Edu or MakerSpace pricing.
Answer:  The terms for different pricing are below. See Video above & Shop for more details.
Maker Edition => Non-commercial use
MakerSpace Edition: => If you are an active member of a MakerSpace(or equivalent) and register with an associated email address email or obvious public connection with the MakerSpace. Non-commercial use related to MakerSpace activities.
Edu: Standard definition… and you register with an obvious education related email address. Non-commercial use, related to course.
Pro Edition => Commercial & all other uses
Currently, all editions provide the same functionality – but this may change in future (any changes will impact new registrations only)