Sale!
AnalysIR
$20.00 – $400.00
Advanced Infrared AnalysIR & Decoder.
Select an option from the box below.
Description
AnalysIR  – AnalysIR allows makers, hobbyists and professionals analyse, decode and reverse engineer infrared rem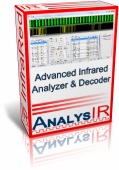 ote control protocols. It is already what we believe to be the most feature rich IR analyser & decoder available today. It's so good you can decode or troubleshoot new or unknown Infrared signals in a fraction of the time before AnalysIR. No need for expensive Logic Analysers or Oscilloscopes.
View Product Datasheet (Click here for PDF)
Using the options above, you can purchase AnalysIR as follows :
$20 – Educational & MakerSpaces (Discounted rate, non-commercial use)
$30 – Makers like us (non-commercial use)
($5 off with coupon code '5offanalysir' = $25 during checkout)

$50 – GoPro or above. (Commercial use allowed)
($5 off with coupon code '5offanalysir' = $45 during checkout)

Use contact form above for bulk purchase pricing.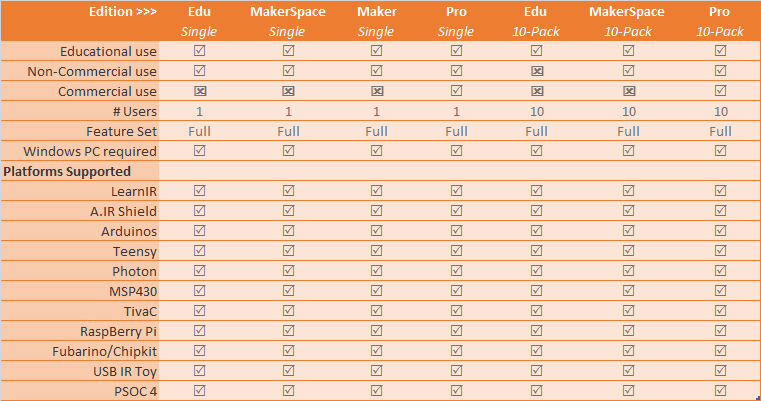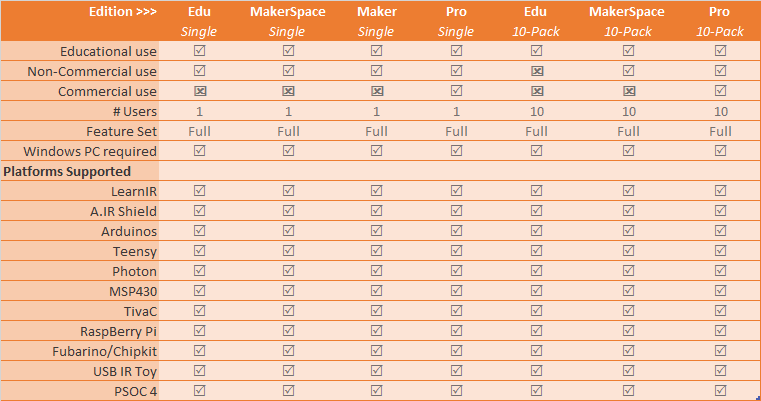 FAQ
Question: I don't have a PayPal account?
Answer: You can pay with Credit Card via PayPal without joining or get a friend or family member to make the contribution for you using their PayPal account.
Question: What happens after I make my payment?
Answer: You will receive an email with download instructions for AnalysIR.
Question: What is included?
Answer: A copy of AnalysIR to use on a PC with an Arduino, LearnIR, Photon, RPi, LaunchPad, USB IR Toy, Teensy3 or other supported devices. NB: The payment is for AnalysIR software only and not a device or any hardware. (Bundles may include hardware)
Question: I have made my payment but I have received no instructions yet?
Answer: Usually we respond pretty quickly unless we are asleep. So if you haven't heard back from us within 24 hours, just contact us using the 'contact' option at the top of this page.
Question: I have also ordered some components. How long before they arrive?
Answer: We use standard postage, so expect delivery within a 5-10 working day timeframe.
Question: Can I use AnalysIR for commercial work?
Answer: To use AnalysIR for commercial (paid) activities, you must purchase the 'Pro' edition. All other editions are for non-commercial use only.
Question: I am still confused?
Answer: Not a problem, just send your questions to us using the contact option at the top of this page.
Additional information
| | |
| --- | --- |
| AnalysIR | Maker Edition x 1, Pro Edition x 1, Makerspace Edition x 1, Edu Edition x 1, Edu & Makerspace Edition – 10 Pack, Pro Edition – 10 Pack |
Only logged in customers who have purchased this product may leave a review.