Dublin, Ireland – 17th April 2015. We are happy to announce the latest release of AnalysIR V1 preview #2 is now available for download by our backers & supporters. Existing users of AnalysIR will receive an email with instructions on how to download this version. New users will receive the details as part of the registration process.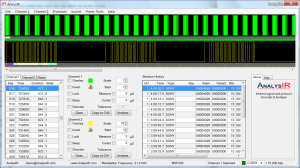 A major highlight of this release is full AnalysIR support for our soon to be released LearnIR (IR Learner). LearnIR delivers the best performance available for receiving and sending Infrared signals with excellent accuracy.
View the AnalysIR Product Sheet(PDF)
We would like to extend a big thanks to the many users around the world who have helped with feature requests, new protocols and testing over the last months.
Some Highlights in this latest release include:
Continue reading Latest release of AnalysIR V1 preview #2 is now available for download →