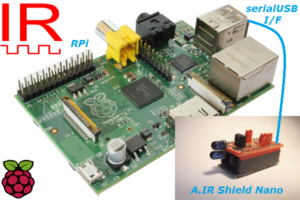 Following the release of our highly popular A.IR Shield Nano, we have received numerous requests about using the module with platforms other than Windows. Because the module uses a standard Serial USB interface for communicating, experienced users can easily integrate it into any other platform. To assist other users we have now released an A.IR Shield Nano Python Script.
A.IR Shield Nano Python Script – Raspberry Pi (RPi)
The script was written and tested on RPi, but can easily be used on any other platform running PYTHON (Windows, Linux, OSX etc). Users can now easily send and receive IR signals using the provided web server interface and integrate into their own applications, projects & products with minimal effort. To help you getting started we have provided a WiKi page which covers the getting started process for using the script. For more information visit the WiKi page by clicking here.
Python Script – A.IR Shield Nano on Raspberry Pi (RPi)
The A.IR Shield Nano can be purchased here.
 A MakeIR Kit
LearnIR, SendIR, RepeatIR , BeamIR, A.IR Shield Nano, A.IR Shield Photon, A.IR Shield Rx and DetectIR are part of the MakeIR series which comprises a range of innovative infrared remote control kits and devices for makers, hobbyists and professionals.

AnalysIR is an advanced analyser & decoder designed by the team here at AnalysIR which offers tight integration with both LearnIR & all of the A.IR shields for beginners and advanced users alike.