Dublin, Ireland – 27th August 2015. We are happy to announce the latest release of AnalysIR V1 preview #3 is now available for download by our backers & supporters. Existing users of AnalysIR will receive an email with instructions on how to download this version. New users will receive the details as part of the registration process.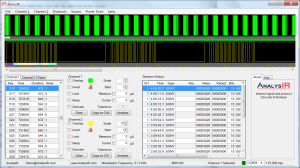 A major highlight of this release is full AnalysIR support for our soon to be released A.IR shield. A.IR was designed to function as a high-end input/otput IR device for AnalysIR and will also work with IRremote, IRLib and any other Arduino sketch. More details will be published soon.
View the AnalysIR Product Sheet(PDF)
We would like to extend a big thanks to the many users around the world who have helped with feature requests, new protocols and testing over the past 2 years.
Some Highlights in this latest release include:
Over 75 base IR Protocols now supported.
Window re-sizing improvements
Unique Reverse Engineering Tool (mainly for AC signals)
Support for LearnIR, A.IR Shield, iTach Flex & Photon added
Carrier frequency storage between sessions
additional import and export formats
Can now save exports to file system along with button ID and other meta data
More context menus and tooltips added.
File paths remembered between sessions.
Check-for-updates feature added
Although still early days, running under Windows 10 has been fine to date.
…over 100 non-trivial Updates/Fixes added since April release (310 to date)
You can see the full list of 75+ supported Infrared protocols below. Of course AnalysIR will work with just about any Infrared remote control signal.
NEC ● RC6 ● RC5 ● SONY ● XSAT ● JVC ● SANYO ● PANASONIC ● DISH ● SHARP ● MICROSOFTRC6 ● MILESTAG1 ● MILESTAG2 ● FRAGTAG ● MITSUBISHI ● MATSUSHITA ● TOSHIBA ● SAMSUNGALT ● KONKA ● RECS80 ● RCA ● PIONEER ● DENON ●DAEWOO ● SAMSUNG ● JAPANESE ● LG28AC ● DAIKIN64AC ● SHARP104AC ● HELISH3CH ● DISNEY ● GWTS ● SERIAL2400BAUD ● NEC2 ● ICOMBAT ● OGAC104 ● HITACHI264AC ● ELECTROLUX96_192AC ● PROTECNO48AC ● DAIKIN160AC ● CHIGO96AC ● MAGNA10 ● PANASONIC216AC ● HITACHI104AC ● NORTHSTAR112AC ● TRANE64AC ● ELECTRA34AC ● AMICO34AC ● VESTEL112_56AC ● CHUNLAN96AC ● FUJITSU128_56AC ● KOMECO112AC ● XMP ● LASKO12AC ● HAIER144AC ● SCIENTIFICATLANTA/ROGERS ● MOTOROLA/MC144105 ● RCMM ● SAMSUNG112_168AC ● MITSUBISHI288AC ● MITSUBISHI88AC ● SANYO152AC ● TOSHIBA144AC ● TCL112AC ● DAIKIN280AC ● CANVAC96AC ● ELECTROLUX134AC ● PENTAX6CAM ● NIKON4CAM ● SEVILLEFAN64AC ● KONICAMINOLTA32CAM ● CANON33CAM ● FUJITSU88DUALAC ● GREE067AC ● IROBOTROOMBA
Full details of new features are contained in the updated Release notes and the User Guide which are in the Installation Package along with installation tips & Infographics.
Get your own copy of AnalysIR at the special low pricing for backers & supporters (available for a limited time only), by making a payment via PayPal now.
LearnIR is part of the MakeIR series of Infrared modules. More details on MakeIR can be found by visiting this page.
A MakeIR Kit
LearnIR, A.IR Shield, SendIR, RepeatIR and DetectIR are part of the MakeIR series which comprises a range of innovative infrared remote control kits and devices for makers, hobbyists and professionals.

AnalysIR is an advanced analyser & decoder designed by AnalysIR which offers tight integration with LearnIR * A.IR shield for advanced users.