AnalysIR now provides support for the PSOC 4 Prototyping kit from Cypress. Effective immediately users of AnalysIR can use the kit to act as an Infrared source for AnalysIR. The PSOC 4 Prototyping kits are available from Cypress and via their global distributors for just US$4 plus shipping. To use the kit with AnalysIR you will also need an IR Receiver and an optional IR Learner, which can also be purchased with AnalysIR. Initially, the PSOC Firmware is available on request and will be included as part of the installation package in a future release.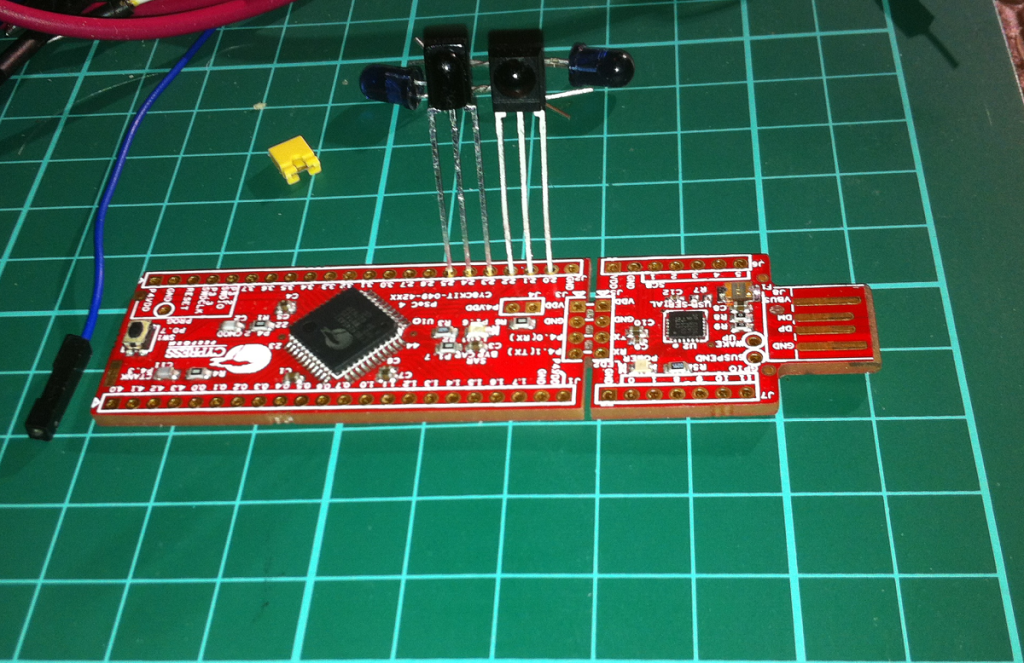 In the photo above we show the PSOC 4 (CY8CKIT-049 4200 Prototyping Kit) with an IR Receiver and IR Learner connected. (You may notice that these through hole devices are not soldered and worked fine for testing). The prototyping kit connects directly to the USB port on your Windows PC and requires PSOC Creator V3, which is available for free directly from Cypress as a download. Firmware is uploaded to this kit via a serial over USB bootloader which does not require the more expensive dev-kits or programmers. When ordering, we got 2 of these kits just in case we messed up the on-chip bootloader.
As this was our first 'play' with the PSOC platform, it took a little longer to master the new concepts compared to more traditional MCUs. It is probably not an easy step for beginners, but once you get the first project working a whole new world of possibilities are available. Now that we have dipped our toes in the water, keep an eye out for some alternative Infrared projects in future.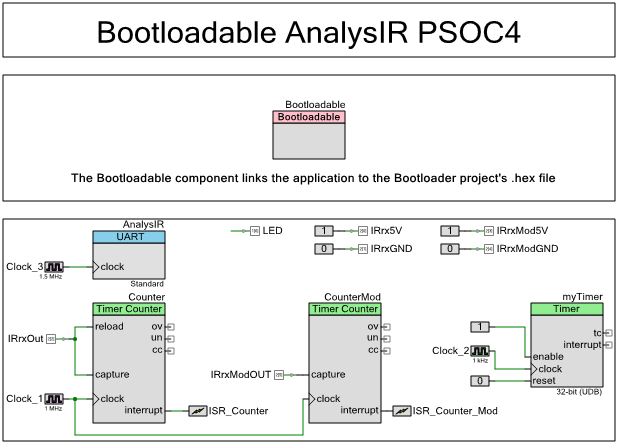 Although we tested only with the '4200' prototyping kit, it should be relatively easy for exiting PSOC users to convert this application to any PSOC 3, PSOC4, PSOC 5 chip, platform, development kit or prototyping kit.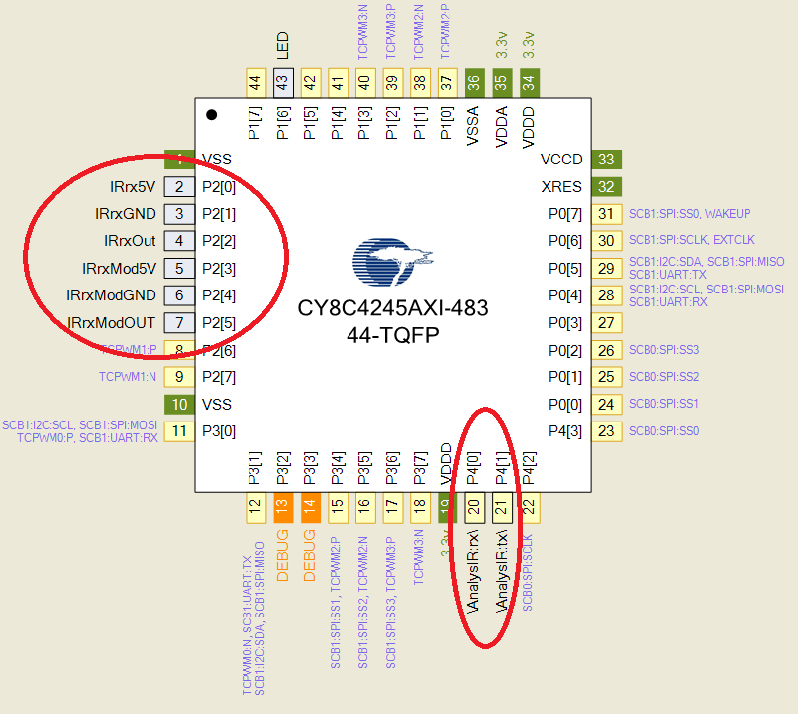 For reference we show the pinouts above. This highlights some of the benefits of the PSOC Creator which provides graphical representations of the project layout, a comprehensive pinout and an even more impressive automatically generated Project Datasheet. Other MCU providers should take a hint from Cypress here.
Update: 14th November 2014
We have now added "Batch Export" support for PSOC4, which was already available for IRremote, IRLib and LIRC. With this feature  users can automatically generate C code for sending any signal recorded or imported into AnalysIR. Because there is no library like IRremote or IRLib available yet on the PSOC platform – we provide a sample project into which you can paste the 'C' code (batch) exported from AnalysIR. The PSOC project is aavailable to users of AnalysIR, on request.
Tip: Get the higher spec 4200 version of the $4 kit when ordering!
PSOC 4 now joins the long list of supported platforms for use with AnalysIR, including: LearnIR (from AnalysIR), Arduino (most models & clones), Raspberry Pi, Teensy 3, ChipKit/Fubarino, MSP430 LaunchPad (beta), USB IR Toy and now PSOC 4.
You can get your own copy of AnalysIR here. IR component starter kits are also available. If you are interested in playing with the PSOC platform why not use AnalysIR as your first Infrared project! Existing users of AnalysIR should just email for a copy of the PSOC firmware or use the contact page above.